ProPropWeb is an open source proposal system that resides on your IIS Server and is customized to your unique operations.  It is based on many years working with Outsourcing Providers using various pricing methodologies throughout the United States.  Key features include:
Detailed prospect data is input to a central database via Intranet forms, so RFP data is immediately accessible for review and underwriting analysis by anyone with appropriate access rights.

Different types of pricing, proposals and Client Service Agreements (ASO, PEO, or other) are dynamically generated in the Browser based on your pre-defined templates.

Services can be dynamically generated and/or selected from a listing of pre-defined defaults for different proposal types. Links to detailed information related to each service can also be provided.

Each proposal can be customized to a prospect's unique needs by selecting from a listing of pre-defined client issues/resolutions or questions/answers.

Managers can control release of the final proposal, CSA or other parts of the system.

A Dashboard provides quick overview of RFP status.

Email notifications are automatically generated based on pre-defined triggers.

Prospects can be rated to aid with underwriting analysis.

Custom reports can be generated by selecting desired output and search criteria from the RFP data fields.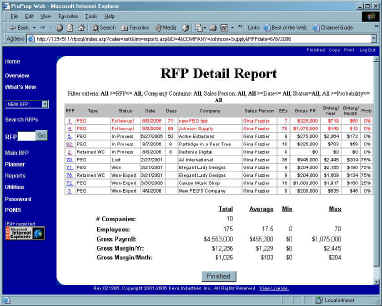 A Profitability analysis summary is available for all proposals.

Costs can be compared for a prospect before and after the PEO/ASO relationship.

Data can be exported and imported for sharing with other systems.
An Activities Planner module provides a tool for scheduling follow-up activities in both Calendar and Gantt formats. Outlook appointments can be generated and sent to selected individuals within or outside of the company. All activities can be viewed across RFPs based on your selection criteria.
Documents can be uploaded to the system and accessed from the related RFP.

Benefit cost estimates can be provided based on a selection from predefined plans, employee census and employer contributions.

Risk Management data can be collected to include claims history, excluded employees, survey request, survey report and management reports based on this information.

Through customization, other forms can be added for new client setup or service delivery details to allow easy sharing of information across the company.

A What's New page automatically informs system users of changes.

Access to RFP records and screens is controlled based on security levels defined for each user.

Rates are automatically looked-up for WC and SUTA, and other pricing information based on default company information.

Multiples states can be priced within the same proposal.

Multiple WC and SUTA rate groups can be defined within the same state.

RFP records can be locked and copied to retain data integrity and facilitate client renewals and re-pricing.

The system is installed on your server, so you have complete control over the data and system access.

Because ProPropWeb is open source, it can grow and change as you do!
These are some of the key features that can help you gain better control over pricing, profit margins and your proposal process, as well as expedite proposal generation no matter where you or your salespersons are located!  If preferred, an Excel version is also available.
Calculate your potential return on investment here (requires Excel).
Contact Deva for password access to the Web demo .
See what the Investors' Business Daily has to say about automated sales proposals.